5 tips for young interior designers working with business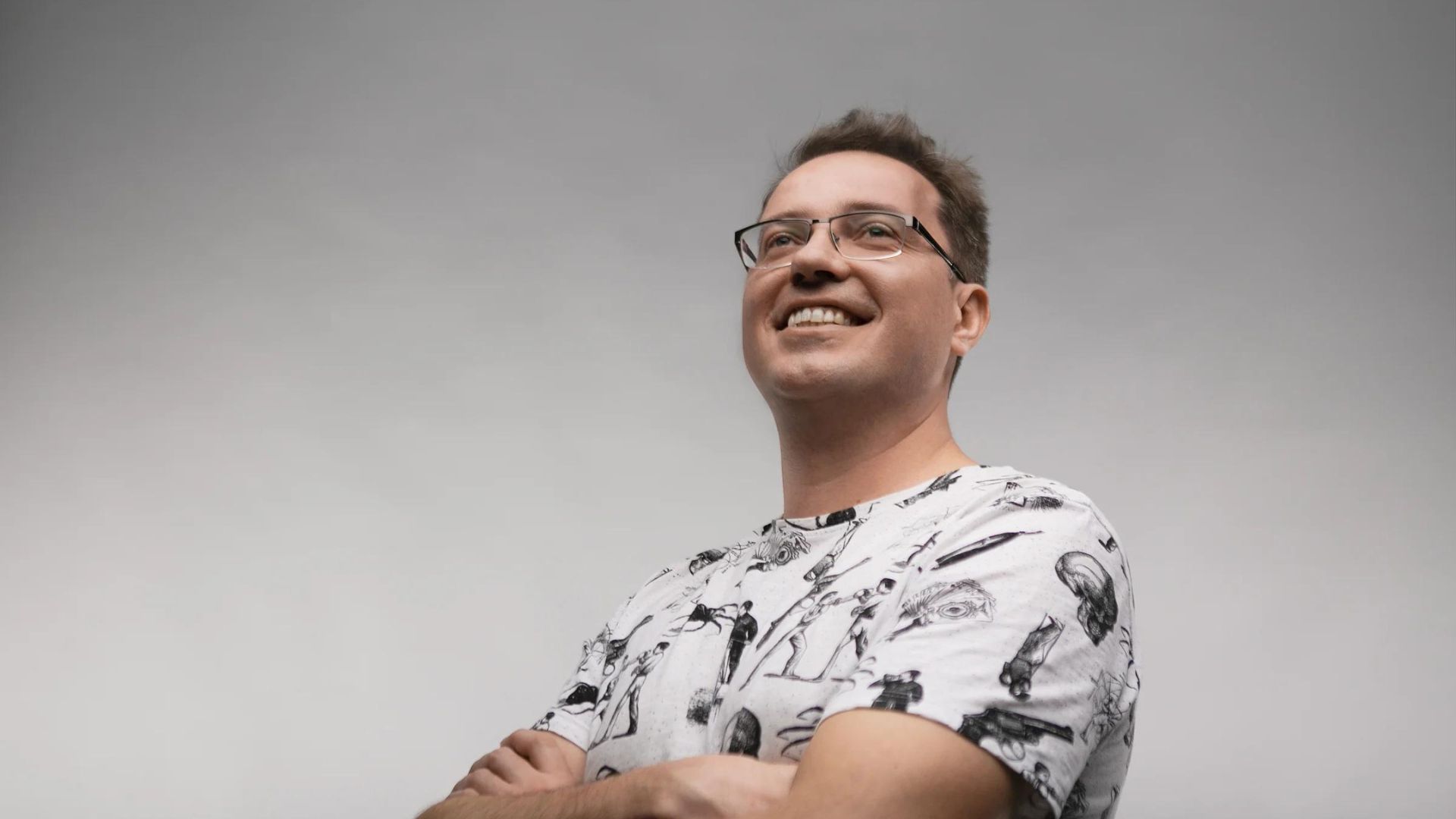 Vadym Ziuziuk, founder of Znak Design, gave advice to young professionals on how to create realistic, functional, and beautiful interior designs for business, in the his column on Happy Monday.
Consistent practice, learning, and trend research remain the main advice for career growth in all creative professions. However, each of them has non-obvious mistakes that hinder building a successful career, let's consider them on the example of interior designers. Vadym Ziuziuk, a designer and architect with 20 years of experience, founder of the Kyiv-based studio Znak Design, gave 5 tips to young professionals on how to create realistic, functional, and beautiful interior designs for business.
Forget about the meme "Expectations/Reality": think through the implementation of all interior elements
Young interior designers often believe that the main thing is to create a cool visualization, and let the customer try to implement it on their own. On the one hand, the designer is indeed primarily responsible for a beautiful picture, and on the other hand, being responsible for its realism is a more profound and professional approach. It will allow you to fully reproduce the digital space in reality, otherwise, when the business owner encounters difficulties in implementation, something will change, and in the end, the design concept may be compromised. Such cases hinder the designer from building a good reputation.
Therefore, it is necessary to have a good understanding of where you can buy these specific furniture, lighting fixtures, and every item, or if it is an individually made item who can make it. In Ukraine, this is even more relevant, as due to the war, there are certain difficulties in the work of manufacturers and the supply of certain materials.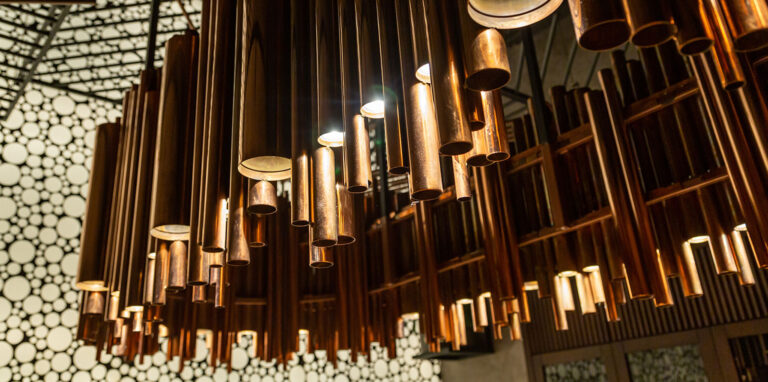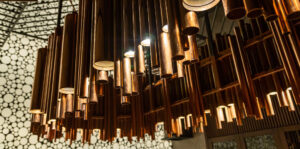 Individually made lamp at Fog Factory Restaurant, Kyiv. Znak Design design
Understand the specifics and tasks of business: no fountain from the ceiling
The beauty of the interior can be truly appreciated only when it is appropriate and functional. In order to make it appropriate and functional, one must have a clear understanding of how the business operates (preferably not only the industry, but also the specific client) and what tasks it aims to accomplish. After all, a business won't do something solely for the sake of aesthetics. The interior must be part of a certain concept, one that is financially effective. For example, we recently transformed a beloved coffee shop in Kyiv's Podil district into a restaurant, and one of the main tasks was not to lose the loyal audience who enjoyed starting their day here with coffee and croissants. To achieve this, we found a range of interior solutions that allowed the establishment to operate in two modes: a familiar yet updated coffee shop during the day, and a cozy restaurant in the evening.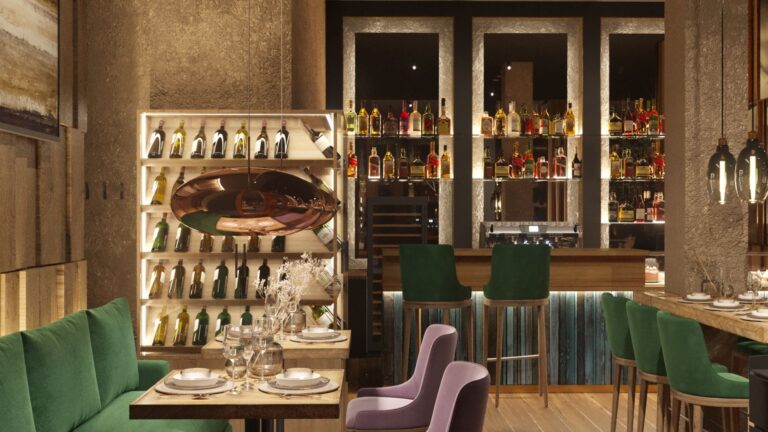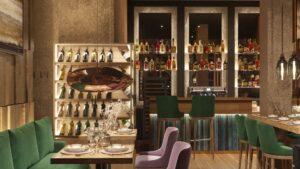 Restaurant on the Podil, Kyiv
Do it for all the money (no)
"How much will it all cost in the end?", is the first question that interests the client. It's probably every designer's dream when the client says, "The budget is unlimited, we can implement any ideas." But in reality, this is not the case and it limits creative freedom, and on the other hand, it provokes being creative and resourceful, finding solutions that save the business money and at the same time increase its premium quality. For young designers full of bright ideas, this can be challenging, and to overcome it, it is important to have a clear budget and perceive it as a challenge for professional development rather than the opposite.
Think about space, not decor
A common mistake of novice designers is to become excessively obsessed with details, which carries the risk of losing the integrity of space, which, in turn, means losing the overall impression of it. After all, we usually like a room not because of the furniture color or the lamp beauty, but because of the comfort and aesthetic pleasure provided by the harmonious combination of all components. That is why I emphasize the importance of the interior designer's architectural background or the need to work in conjunction with an architect, as only with a deep understanding of the room fundamentals can a cool design be created. The work at Znak Design is built just like that.
The second important point is that there should be one idea that unites all the details, distributes them into primary and secondary ones, and allows not to create anything unnecessary. This is an advantage for both design and finances. For example, when designing the interior of a family restaurant in Kyiv Park Land, we were guided by the idea of creating a feeling of unity with nature, the main embodiment of which became bright petal-shaped lamps. The simplicity of other details allowed us to achieve balance instead of being garish.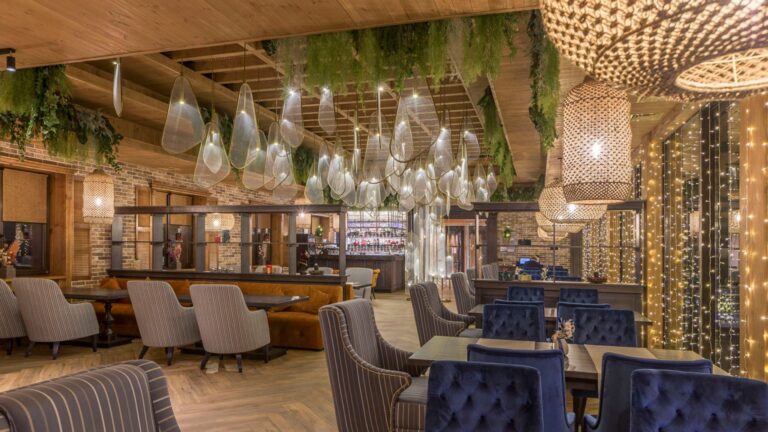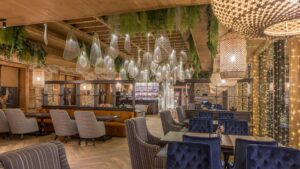 Restaurant Park Land, Kyiv
Get along with the customer, who knows better
Business owners often express or even insist on their vision of the future interior, but in reality they expect and value professional explanations of why it's better to do things a certain way. Young designers should learn to justify their vision because if the result is not good or functional, the argument "you wanted it that way" won't work with the client.
Young designers usually have a lot of fresh, unconventional ideas, and that's great, but to build a successful career, it's important to learn how to combine them with practicality and business context. I hope these tips will come in handy.